Thanks to everyone who donates to the care of Pearl, Lilly, Crockett & their babies!

---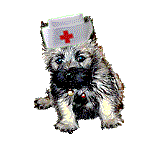 BRENDA ISAACS, of CRUSA:
Bless their baby hearts . . . thanks to all who helped save these guys . . . seeing these faces you can't help but smile.


BECKY PRESTON:
My heart just breaks for her.


BOB ANDERSON:
Pearl looks like she's holding up very well. With lots of AireZen & good wishes that everything works out well.


SIDNEY HARDIE:
Poor Pitiful Pearl -- hang in there, baby -- life will get better.